Communities across Devon and Cornwall will be able to make their roads safer after successfully bidding for funding from Vision Zero South West's Call For Ideas initiative.
The project, which aims to help community-led road safety schemes, had initially committed a total funding pot of £100,000.
However, the Call For Ideas yielded so many positive and proactive projects that the Vision Zero board agreed to increase funding to more than £150,000 to allow more schemes to take place.
In total £153,000 will be spent to fund 34 projects across the two counties, including Vehicle Activated Speed signs (subject to agreement with the local highway authorities), new road signs and markings, high visibility neck bands for cattle and ponies and glow in the dark stickers for school children.
As well as this, a further four projects have been adopted into the Vision Zero South West road safety delivery plan, including providing advanced driver courses for drivers under the age of 25 and engagement events for older drivers, cyclists and young drivers – all of whom are vulnerable road user groups in Devon and Cornwall.
Alison Hernandez, Police and Crime Commissioner for Devon, Cornwall and the Isles of Scilly, is chairman of the Vision Zero South West board as well as the national APCC lead for road safety.
Commissioner Hernandez said: "Every community I visit raises the subject of road safety, which is why I have made it a priority in my new Police and Crime Plan.
"I'm delighted that we've been able to fund and support so many projects, led mainly by volunteers committed to saving lives. We know we can only tackle road safety and achieve our target of zero serious collisions by 2040 with the help of our local communities.
"I've been overwhelmed by the enthusiasm and attention to detail that residents have displayed during this process and I am certain that the projects we've been able to progress will make a real difference to the lives of many, many people."
Councillor Stuart Hughes, vice chairman of Vision Zero South West and Devon County Council's cabinet member Highway Management, said: "The fact we voted to substantially increase the funding for this initiative demonstrates Vision Zero's commitment to road safety in Devon and Cornwall.
"I've been lucky enough to meet several of the successful applicants and have been blown away by their passion for road safety within their communities. I'm so happy we've been able to empower these residents to make the changes they feel are badly needed."
One of the communities to benefit from funding from the Call For Ideas is the town of Holsworthy in Torridge who submitted a bid for vehicle activated speed signs through their local town council.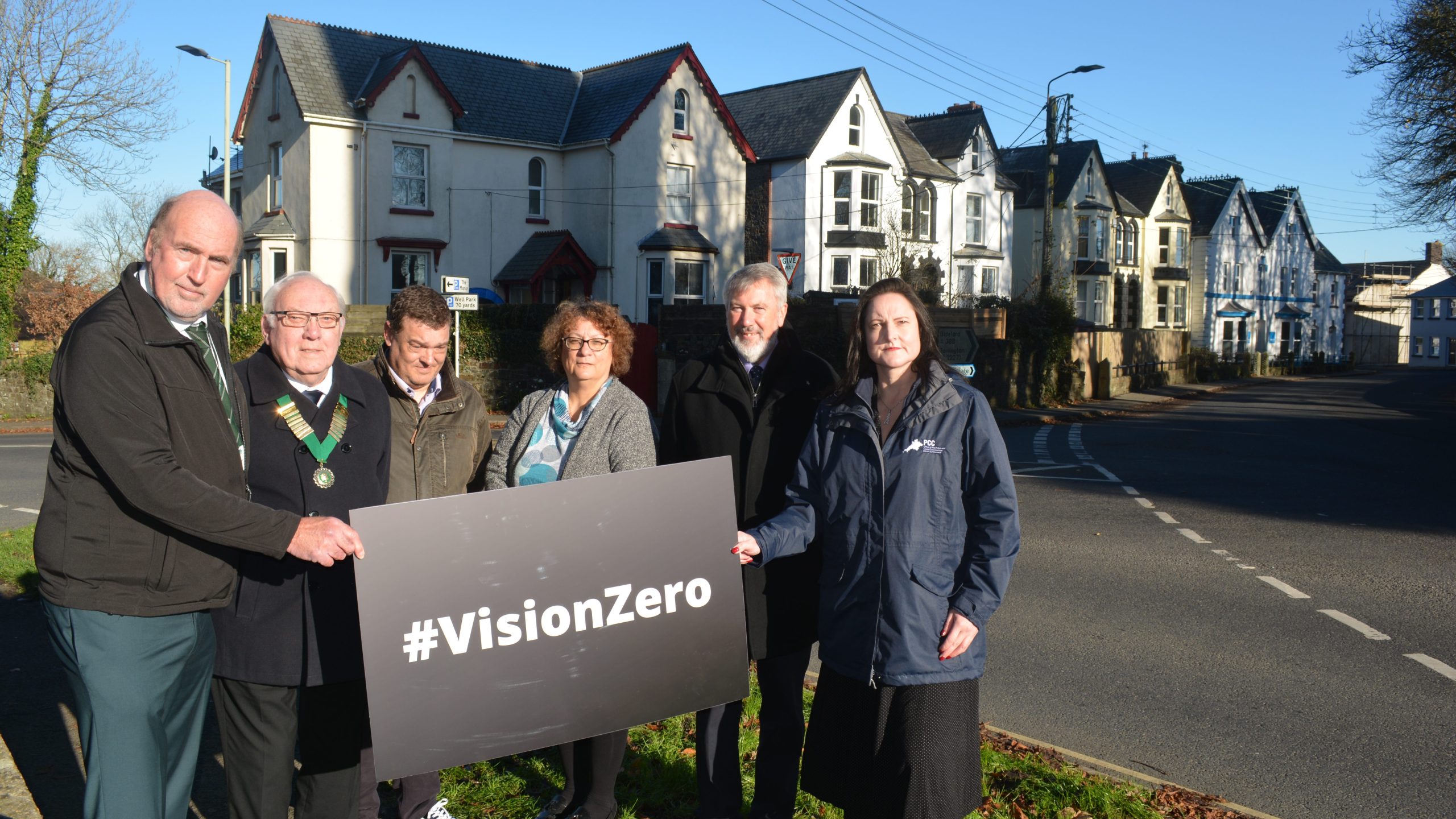 Vanessa Saunders, Holsworthy Town Clerk, said: "We've been discussing problems on the A3072 for some time and our local community speed watch team confirmed there had been some issues there.
"A lot of people driving into Holsworthy from that direction don't actually realise they're coming into the town. They come in from quite a fast road and they suddenly put the brakes on without realising the speed they are travelling at.
"A lot of those roads are used by elderly people and children going to various schools so it's very important we get them to slow down
"We're so pleased to receive this funding – it will be put to good use. We will work with Devon County Council to make sure the signs are up and running as soon as possible.
Another group to be awarded funding is the Milton Abbot Community Road Safety Group who also applied for vehicle activated speed signs.
Chris Stone of the local Community Speed Watch team said: "We became aware, particularly during the lockdown, of excessive speeding through the village and also that children were feeling traumatised by fast, close passing vehicles on their way to school.
"We've been looking at how we can provide advanced road safety systems here and an obvious first step was to introduce signs which indicate to the driver how fast they are going and request politely that they slow down."
On hearing that they had been successful with their funding application, Chris added: "It is great and an enormous support to our efforts in the village."
Full list of approved schemes
| | |
| --- | --- |
| West Hill Ottery St Mary Devon | 20 packs of glow in the dark stickers for each child or dog walker/pedestrian, to stick on a bag or coat, dog jacket, bicycle or walking stick that is used in the dark. |
| B3212 road between Peek Hill cattle grid above Dousland and the Plymouth Hill cattle grid at Princetown. | Reflective neck bands for Cattle: x150 / Ponies: x£80 Warning/instructions signs: Vehicle Activated Sign (VAS) & pole with solar |
| Ley Lane, Bere Peninsula Devon | Purchase and install 2 x warning signs. Pay for the painting of white lines. |
| A30 between St Erth and Newtown roundabouts and Road between the A30 at Crowlas and Ludgvan | Installation of additional signage. |
| In Sourton village (West Devon) on A385 as you approach driving south towards Tavistock Grid ref SX 536904 | Purchase and install 2 x ROAD NARROWS signs at a location where the road narrows which results in vehicles presenting a danger to pedestrians using the footpath. |
| Langore Village Green Footpath Cornwall | Purchase and install 5 x 2.4m Fingerposts |
| Newton and Noss Parish | Purchase and erect 5 additional posts for Vehicle Activated Sign ( VAS ) allowing its use at other locations in the village. |
| Halberton Village and surrounding area Devon | Purchase and install 2 x VAS signs and 4 x additional warning signs at key locations. |
| Wilmington Devon | Purchase and install a Speed Indicator Device |
| B3362 Milton Abbot Devon | Purchase and install 2 x VAS with data capture and supporting equipment. |
| Perranarworthal and Mylor Parishes. | Purchase and install 2 x EVOLIS radar speed signs. |
| Oak Hill, part of the B3718 which links the town of Budleigh Salterton to Newton Poppleford | Purchase and install 1 x Solar Speed Indicator Device including supports and solar panel – £2,725.00 Delivery – £ 50.00 Installation – £ 100.00 |
| Entrance to the Village of Chilsworthy from the Holworthy direction | Supply of a Large DSD speed display sign |
| Staddiscombe Plymouth | Purchase and install 2 x speed monitoring devices through Staddiscombe village. |
| A3072 at the entrance to Holsworthy by Deer Park Nursing Home and Trewyn Road | Purchase and install 1 x VAS. |
| Strete Village. A379 location for a single radar speed sign. | Purchase and install Radar Speed Sign to supplement installation of rumble strips and signs. |
| A379 Adjacent to Starcross School | Purchase and installation of two Vehicle Activated Speed radar units at approved locations. |
| B3213 Bittaford, Devon | Purchase and installation of Vehicle Activated Speed Sign, including solar power and data capture. To reduce speeding through the community of Bittaford |
| A30 through Drift Village Cornwall | Purchase and install Vehicle activated sign |
| Yealmpton Devon on the A379 arterial road. | Purchase and install two units of Messagemaker displays. This project is to set up a speed monitoring and deterrent device at each end of the village to slow traffic going through the village. |
| Newton Abbot, Devon at various locations. | Purchase and install 3 x Mobile VAS systems |
| St Breward Cornwall | Purchase and install a mobile VAS which would be utilised along a 2 mile stretch of road on the western edge of Bodmin Moor. |
| 3 x locations. Harrington Lane Pinhoe Exeter, near the junction with Church Hill and the Primary School where there are no speed humps. Chancel Lane, Pinhoe, Exeter near the junction with Harrington Lane Church Hill Pinhoe, Exeter in the descent into Pinhoe Village as the 20MPH restriction starts. | Purchase and install VAS signs at 3 locations |
| Pinhoe: 3 x locations | Purchase and installation of VAS at various key locations in Pinhoe on roads identified by local community as having severe problems with speeding drivers |
| Shaugh Prior Village | Purchase and install SLOW DOWN signs for the village |
| Sidmouth Devon. Jnctn of Salcombe, Sid and Milford Roads. | Purchase and installation of SLOW signs accompanied by new road markings. |
| Sherford village TQ7 2AX | Purchase and install signs |
| Roche | Installation of 'flashing speed cameras' at various key locations in Roche. |
| Chapel street,Grimscott Bude Cornwall | To provide signage to make speeding drivers aware of vulnerable people (elderly and children) there is no footpaths on the dangerous 2 'Z' bends and highlight the need to comply with the speed limit of 30. To encourage Cornwall council to reduce the speed either side of the village from 60 to 40. We would like the flashing 30 speed limit sign as used in rural areas of Wales. |
| Ottery St Mary Devon | Community Speedwatch Signs on all approach roads into Ottery St Mary |
| West Alvington village Devon | The project seeks to reduce the number of speeding traffic by installing 2 Autospeedwatch cameras and target the persistent offenders each month. |
| Old Launceston Rd Lamerton Devon | Three projects 1. 20 30MPH repeater signs. 2. Painted white safety walkway line. 3. Auto speed watch camera and signs |
| Breage Parish School, Trewithick Road, Breage, Helston TR13 9RZ and Godolphin Primary School, Godolphin Cross, Helston TR13 9RB | Two 20s Plenty School Banners to put outside the local schools and 10,000 stickers for windows and car bumpers |
| Cornwall excluding PL post codes. These are covered from Plymouth | Reduce risk of harm to young drivers by offering free advanced driving courses to 20 young drivers. |
| Community Fire Station or Community venue in Cornwall | Community engagement event to improve knowledge and awareness of support and referral pathways within the community and professionals working with older people to increase the number of older drivers undertaking practical driver assessments. |
| Community Fire Stations throughout Cornwall | A series of cycle safety events engaging with cyclists and drivers to raise the profile of cyclists and cycle safety, raising drivers awareness of the need to look out for cyclists on the road and give them plenty of space at least 1.5m when overtaking and increasing cyclists' awareness of the risks posed to cyclists from their own and others actions, providing advice and guidance on staying safe, being more visible and alert on the road. We will proactively target cyclists and drivers to encourage safer riding and driving practices. |
| Community Fire Station in Cornwall | A partnership community engagement event targeting young drivers, promoting inclusivity and positivity raising awareness of how driving behaviours and vehicle defects impact on the risk of being involved in a collision. Awareness of the importance safe driving practices and safe vehicles e.g speed, vehicle/tyre checks, adoption of vehicle checks to include tyre checks. Reducing the risk of being involved in a collision through promoting safe driving practices and safe behaviour, addressing inappropriate speed, adoption of tyre checks and general driver checks, encouraging passengers to plan exit strategies in unsafe driving situations. |