A group of village residents concerned about speeding cars in their community have become the 200th Community Speedwatch group to be set up in Devon and Cornwall.
The residents of Dolton near Winkleigh in Devon had ambitions to transform the village into a 20mph zone after years of drivers travelling too fast through their rural community.
As a first step, local Colin Jones decided to set up a Community Speedwatch (CSW) group with Devon & Cornwall Police to allow residents to monitor the speed of the traffic on some of their problem roads.
CSW is a national scheme where proactive members of local communities join with the support and supervision of their local police to record details of speeding vehicles using approved detection devices.
Registered keepers of vehicles exceeding the speed limit are contacted – initially with a letter explaining the potential risks and consequences of their dangerous behaviour. Repeat offenders will receive a visit from the local police, irrespective of where they live.
Beyond these friendly gestures, focused enforcement and criminal prosecution follow based on the collated evidence.
Colin, who coordinates the Dolton Winkleigh CSW group, said he and his five group members have already seen positive results.
He said: "We feel we are here mostly to slow traffic down – and we've already noticed that people are driving slower through the village.
"We plan to pop up in different locations at different times so people won't really know when we're here.
"It was simple to register as a new group – we just went to the Community Speedwatch website and submitted our details. Then a member of Devon & Cornwall Police made contact with us who trained us to use the equipment and helped us set the group up.
"It was a surprise to hear that we were the 200th group in Devon and Cornwall, but it's something we're quite proud of. There are even more groups now and we've had a lot of interest from neighbouring towns and villages who want to find out more."
The group is often joined by Dave Burrows, one of several Speed Detection Officers with Devon & Cornwall Police, who uses his Home Office approved speed camera to enforce any speeding vehicles and issue the owners with a notice of intended prosecution.
Dave said: "I help many CSW groups in Devon by joining up with them to carry out enforcement checks.
"This demonstrates that it's not just the volunteers who come out to help make their communities safer, but offenders can actually be detected by myself and end up with a fine, penalty points or a driver training course.
"It's really rewarding to have our 200th CSW group. I've helped set up around 100 of those groups and have met some lovely people – all of whom give up their time to come out and help make their communities safer."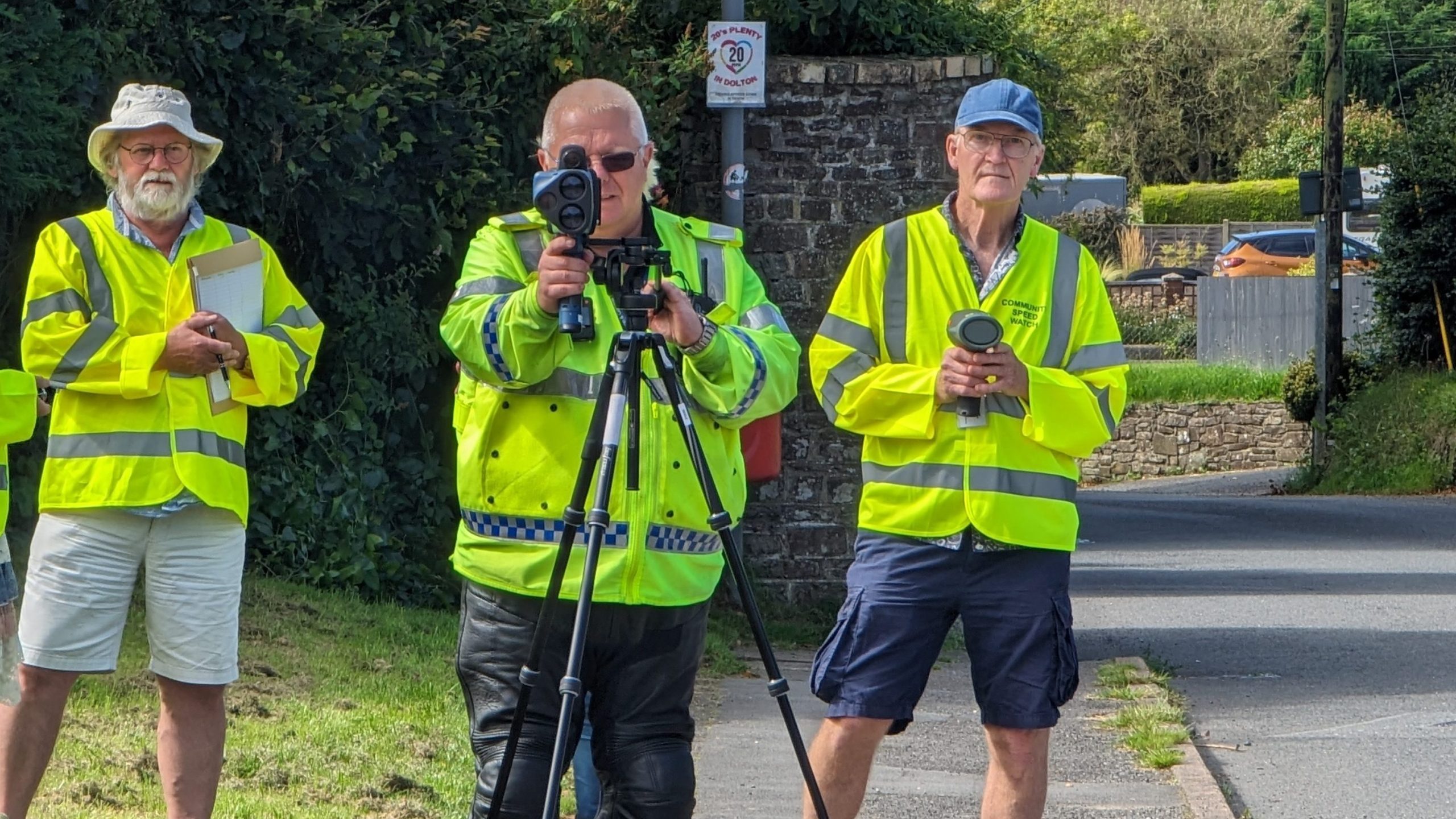 Adrian Leisk is Head of Road Safety at Devon & Cornwall Police and also chairs the Vision Zero South West enforcement group.
Mr Leisk added: "We're absolutely delighted that we've been able to reach this milestone of 200 registered CSW groups – I think we are actually now at 217 groups in total.
"We've got over 1,300 registered volunteers, all of whom are people who have had enough of speeding concerns in their communities and want to do something about it.
"CSW gives you the means to monitor speeds in your community and pass that data directly to Devon & Cornwall Police where follow-up action will take place. We have a dedicated team of CSW Speed Detection Officers who rotate between CSW groups to enforce and also help us target our attendance to areas where CSW teams have detected large numbers of vehicles travelling over the speed limit.
"By joining one of these schemes – or by setting up a new group in your area – you are helping to make your community safer."
For more information about Community Speedwatch – or to set up your own group – visit www.communityspeedwatch.org